FIL-AMS RALLY FOR RECOGNITION
Focal Point: A Vicar Leaving
Thomasville, GA
July 29, 2000
Organizing caused us to become more visible. When President Henry A. Eugenio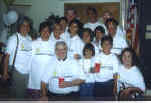 took the podium to announce our collective farewell and best wishes to Father Victor Seidel, the reassigned parish priest of St, Augustine's Catholic Church, every Filipino-American (Fil-Am) member of the congregation felt personally represented. A sense of pride and cohesiveness, 'ika ngang Bayanihan spirit (as they say, Community spirit) permeated the Pinoy (Filipino) group.
The Filipino-American Association of South Georgia (FAASG) has become a forum o interaction for its members and interested parties. A surge of enthusiasm in preparing oneself to be a performer or teacher of the native folk dances, songs, traditions, customs, history and languages is clearly evident in the huntahan (verbal interactions) among Fil-Ams. One could hear Kundiman (love songs) in the air, hummed or sang by crooners, others have started to test their agility, rhythm and stamina against the rigors of Tinikling, a folk dance patterned after the agile native Philippine bird called Tikling. This is otherwise known as the Bamboo Dance. Mothballed costumes have come out. Native recipes in yellowed paper are carefully copied to share.
In the midst of these, our youths, the first Fil-Am generation have began to chronicle their family history, personal struggles of identity and hopes for the future generations. Still the proverbial e-word (extinction) sometimes surfaces in whispered murmurings. The culture may become extinct in as early as the second generation. Simbako! (God forbid).
On this note, we look for Fil-Am icons in the community who have paved the way for us. See article "A tribute to Silent Heroes". A Filipino tradition is candidly expressed in the presidential message, "Path to Recognition". For the youth, "To keep One's Heritage is to Share it", may offer a different perspective.

President's Corner
Henry A. Eugenio
Path to Recognition
Summer vacation for our students is over and school has restarted. As we take the opportunity to congratulate this year's graduates, we are also gearing the younger ones to get back to school.
EDUCATION is priority for Filipinos. This is our most valuable legacy. Filipino tradition dictates that to succeed in life, one must have a complete education. With education, there is empowerment.
In America, the sky is the limit. Barring other limiting factors, and depending upon how one defines success, the well educated have a better shot at succeeding versus the disadvantaged. A number of venturesome Filipinos have reached all four corners of the globe in pursuit of making a living and in building their future. Wherever we go, we have made positive impact in our adopted communities. This is quite evident in Thomasville and we take pride in it.
To our children: America is your country but you should be doubly proud that you also are a Filipino by ethnic origin. Maintain the legacy of your forebears by striving for excellence, whether it be in academics, athletics, your job or in anything you find worth pursuing.
Be the best example of who a Filipino is. After all, as a Filipino-American, you ate very much a part of the whole.
To Keep one's Heritage is to Share it.
Shelly Benedictos Wheedleton
Culture. Heritage. Noteworthy words but without special meaning to me despite my wide exposure to a family active in Filipino-American (Fil-Am) cultural affairs. As a U.S. Army brat, I traveled to different states from Florida to California experiencing the cultural revivals of each group in each state. My personal involvement in the Asian-Pacific Heritage Awareness Program in 1996 brought a new sense of appreciation for my ethnic origin. The opportunity to learn Polynesian dances presented itself, hence I took up the challenge. To my amazement, our troupe was well received. We even got a special commendation from the commanding general of the base. Thus, began my ethnic "dancing career" and my increased participation in Philippine affairs.
Our cause as Filipino-Americans, is to preserve and maintain our heritage. Neglect in this mission can be seen in many of us, "first gens" or first generation Fil-Ams through no fault of ours. Many of us feel disconnected from society and from the Fil-Am community itself. Though well developed in many ways, I still felt (that) something was amiss while I was growing up. I could see that we, first gens, are hardly recognizable as Fil-Ams, culturally. Lacking in Fil-Am cultural attributes and needing to belong, we expediently pick up extremities of the prevailing culture of society. We then, embrace a culture that is a medley of an untraceable mix. With identity problem, we cannot develop our sense of cultural pride.
I suggest we dance our way into the Philippine culture. It is a relatively safe route. Besides, dancing is audio-visually appealing to the aesthetic sense. While promoting self esteem, it also creates a feeling of personal awareness and ethnic pride. We, first gens can go from there, i,e,. discover our heritage, learn it, and with confidence, impart it to our children and the public. A culture shared is a culture kept.
So, dust off those dancing shoes and let's dance.

[ Home ] [ Officers ] [ Calendar ] [ Community Events ] [ Sanggunian ] [ Links ] [ News ] [ Feedback ] [ Reference ]